Accompanist to Frederick the Great, the second son of JS Bach was also a composer of rare inventiveness and beauty.

Lived 1714-1788
Mostly in Berlin, Hamburg
Best known for Keyboard sonatas and concertos, flute concertos, cello concertos
Similar to Mozart, Haydn, Carl and Anton Stamitz, JC Bach
---
Dr Charles Burney, the distinguished music historian, undertook two tours of Europe for his ground-breaking A General History of Music. A high point, in 1772, was Hamburg and a visit to Carl Philipp Emanuel Bach.
Burney had "long contemplated, with the highest delight, his elegant and original compositions; and they had created in me so strong a desire to see, and to hear him, that I wanted no other musical temptation to visit this city". His description, in The Present State of Music In Germany, of three meetings with Bach, from October 9 to 11, gives us a rare and intimate picture of CPE Bach the man. He was witty and amusing, ready with a light-hearted comment – that some of his music was to be performed in St. Catharine's Church that Sunday, and that Burney shouldn't bother to go, because it would be badly performed (he went, and it was!).
Bach claimed that he had more-or-less stopped composing by the time he moved to Hamburg in 1767. "After I was 50," he wrote, "I gave the thing up, and said let us eat and drink, for tomorrow we die!" In fact, he wrote some significant music in his later years, including six powerful Hamburg Symphonies (1773) for Baron Gottfried van Swieten, later a patron of both Haydn and Mozart.
He also produced an annual Passion for Good Friday. But certainly, more of his attention was now given to teaching, performing, fulfilling the duties of director of church music, and revising his Essay on the True Art of Playing Keyboard Instruments. This two-part treatise (1753 and 1762) was immensely influential in his lifetime and remains an invaluable source of post-Baroque keyboard techniques. For instance, Bach encouraged the use of the thumbs – previously, scales had generally been played by second to fourth fingers, running up and down the keyboard like three-legged sprinters. His innovation remains standard technique for keyboard players. He devoted a lengthy chapter to the interpretation of ornaments such as trills, turns and mordents.
"

Bach's treatise was influential – he encouraged the use of thumbs

"
Most telling, though, are his thoughts on "Performance", the third chapter. These reveal a great deal about both his intentions as a composer and also his approach to performing. "Any passage can be so radically changed by modifying its performance that it will be scarcely recognisable. [Performers must take note of] loudness and softness… touch, the snap, legato and staccato execution, vibrato [applicable to the clavichord, his favourite instrument], arpeggiation, retard and accelerando. Lack of these elements or inept use of them makes a poor performance. Above all, lose no opportunity to hear artistic singing. In so doing, the keyboardist will learn to think in terms of song. Indeed, it is a good practice to sing instrumental melodies."
Burney confirms that Bach played as he preached. As Bach's guest for a whole day, he was shown into his "large and elegant music room, furnished with pictures, drawings, and prints of more than a 150 eminent musicians… M Bach was so obliging as to sit down to his Silbermann clavichord, and favourite instrument, upon which he played three or four of his choicest and most difficult compositions, with the delicacy, precision, and spirit, for which he is so justly celebrated. In the pathetic and slow movements… he absolutely contrived to produce a cry of sorrow and complaint, such as can only be effected upon the clavichord, and perhaps by himself. After dinner, he played till near 11 o'clock at night. He grew so animated and possessed, that… he looked like one inspired. His eyes were fixed, his under lip fell, and drops of effervescence distilled from his countenance. He is now 59, rather short in stature, with black hair and eyes, and brown complexion, has a very animated countenance, and is of a chearful [sic] and lively disposition."

Frederick the Great gives a flute recital accompanied by CPE Bach in Sanssouci
Carl Philipp Emanuel was the second surviving son of JS Bach and his first wife, Maria Barbara. The revolutionary style of these mature years is all the more surprising because, he makes clear in his autobiography, "in composition and keyboard performance, I have never had any teacher but my father." Emanuel sang and played in St. Thomas's Church in Leipzig, and in return was dragooned into copying out parts less often than other family members. Like several of his distinguished predecessors, including Handel and Telemann, he initially studied law, reading for a degree at Leipzig University.
His first major post was as harpsichordist to Frederick the Great in Berlin. The Prussian King was passionate about music, an accomplished flautist and a polished if predictable composer – his compositions include 100 flute sonatas and four symphonies. Bach proudly describes accompanying the King in a flute solo in 1740, and was taken onto the Court payroll in 1741. On most evenings in the week Frederick summoned his court musicians, with Bach at the keyboard, to play usually six concertos and a sonata. His teacher, Johann Joachim Quantz, composed around 300 royal concertos, as well as 200 sonatas. This lifestyle continued for about 15 years, though the King's taste remained rather static and his breath control suffered over the years. The absolute monarch exercised the absolute right to control the musical tempo, with some wayward results as he paused to reinflate his lungs. It's said that one sycophantic royal admirer commented "What rhythm!", at which Bach muttered: "What rhythms!".
Bach was decently paid but undervalued by the King, who preferred, as composers, others including Johann Adolph Hasse, the brothers Graun and above all Quantz. So Bach was retained principally as keyboard accompanist among the King's private chamber musicians, though he also gained the experience of playing in the Hofoper, the Opera House commissioned by Frederick.

Hamburg, 1811
Bach's first published collection, six Prussian Sonatas (1742), were dedicated to the King, presumably to enhance the composer's standing with him – though they seem not have made a lasting impression. They do, however, show some remarkable signs of Bach's forward-thinking in form and structure and, above all, in what Burney called "expression". The First Sonata opens in a disarmingly predictable manner – a simple two-voiced texture, which could have come from his father's pen as a 'two-part invention'. But structurally, it is written in that epitome of Classical patterns, so-called 'sonata form', which was to remain the norm of virtually every solo, chamber and symphonic first movement until well into the 20th century: an opening exposition moving to a nearly-related key, a middle section exploring the potential of the opening themes, and a return to the first section, all now remaining securely in the home key. The movement includes a characteristically 'expressive' moment as the music lurches suddenly from major to minor.
The following Andante is extraordinarily daring: a naïve-enough melody over gently repeated chords is abruptly interrupted by wordless 'recitative'. It wanders through widely ranging keys reaching, in five bars, from F Minor to B Major and back – about as distant as tonal music can stretch. It is all emphasised by dramatic dynamic contrasts between sudden forte and piano, and including a pause for an improvised cadenza before the end. All six sonatas mix the reassuringly predictable with the totally surprising – in harmony, melody, texture, rhythms. They are not beyond the technical powers of quite modest pianists and richly repay investigating.
Bach's second published set of six Württemberg Sonatas for his pupil Carl Eugen of Württemberg displays similar surprises. The slow movement of No 5 is in the rare key of E Flat Minor; the opening movement of No 6 contains dramatic contrasts of forte and piano within a single bar; and the technical demands throughout have become more patently pianistic, wide-spread arpeggios and fast semiquavers using most of the keyboard.
The most extraordinary example of Bach's passion, romanticism, 'expression', is a Fantasia, the final musical illustration in the Essay. It is marked Allegro moderato, in common time (4/4) but without bar lines. Instead, huge arpeggios climb up nearly four octaves, madcap semiquaver runs scamper across the page, rhythmic palpitations, abrupt changes of dynamics and key, dramatic moments of silence, all demonstrate the intensity of his Empfindsamer Stil (sensitive style) – his deeply personal, subjective expression in which, as one critic put it, "the only expectation is the unexpected".

CPE Bach and Pastor Sturm being sketched in 1784
Bach's output, totalling over 1,000 works in his lifetime, was largely keyboard-based – solo sonatas, keyboard concertos and chamber music, not surprisingly including several sets of flute sonatas for his royal employer in Berlin. Then, in 1767 he moved to Hamburg, replacing his godfather, Telemann, as director of music for the principal churches there. Frederick at first refused to release him from his post; Burney supposed "that his wife and children, being all subjects of his Prussian majesty, could not retire out of his dominions without his permission." While Bach's responsibility lay in organising music in the Hamburg churches, he involved himself in the city's wider musical life, arranging several series of subscription concerts from 1768 onwards.
He gradually played less and less in public, giving up completely from 1769, aged 65, and formally retired in 1786, though he was still composing. In his final year, 1788, he wrote a concerto for piano, keyboard and orchestra, arranged a collection of songs and produced three pieces for the curious ensemble of harpsichord, flute and viola.
He retained a deep respect for older music, especially that of his father. The "Crucify" choruses in his 1785 Matthew Passion are note-for-note transcriptions of his father's setting of 58 years earlier. But his lasting contribution lay in his revolutionary style, breaking all the previous bounds of musical 'expression', his heart on his sleeve, his nervous Sturm und Drang energy both as composer and performer. He profoundly influenced both Haydn and Beethoven and, although neglected in the 19th century, his passion and romantic spirit contributed to the gene pool of Western music until Romanticism breathed its last in the mid-20th century.
---
Emmanuel Pahud on Emanuel Bach
I first heard some concerts of Baroque music during the summer holiday when I was seven, and there was a guy playing this crazy, strong, expressive and virtuosic music on the flute. A look at the programme revealed it was CPE Bach's D Minor Flute Concerto, and I asked my parents to buy the recording afterwards so I could go on listening to his music.
CPE Bach breaks with the rules, both those of the previous generation like his father JS Bach, and those of his sovereign Frederick the Great. His music is trying to escape from that old world, provoking yet stylish, with an urging and powerful call for freedom (something that Beethoven later achieved). It is therefore very different to his contemporaries in the more academic Mannheim style or the more Rococo galant style.
The power of his music is tremendous and it serves the flute extremely well: the intensity and the deep, dark vocal expression in the slow movements is breathtaking, and it finds its counterpart in the lightning speed of the racing, or furious, fast movements. They are always a challenge to perform!
His Solo Flute Sonata is a masterpiece, where CPE Bach gives us an illusion of harmony with just the single line of the flute. His E Minor Sinfonia, WQ178 from his Berlin Period, his Six Sinfonias for strings, WQ182 from Hamburg, these are wonderful miniatures of great intensity. But discovering any of his concertos, symphonies, chamber music or keyboard works is such a rewarding journey!
Emmanuel Pahud's new CD of CPE Bach flute concertos is out on Warner Classics in November
---
Recommended Discs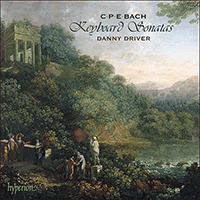 Keyboard Sonatas Volume 1
Danny Driver p
Hyperion CDA67786
One of many a handful of recordings of CPE's music played on the modern piano.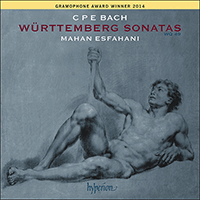 Württemberg Sonatas
Mahan Esfahani hpsd
Hyperion CDA67995
Deliciously lively performances of these colourful keyboard works.
Cello Concertos
Hidemi Suzuki vc, Bach Collegium Japan
BIS BISCD807
Sparkling playing of three works that deserve to be cornerstones of the repertoire.
Magnificat et al
RIAS Kammerchor, Akademie für Alte Musik/Hans-Christoph Rademann
Harmonia Mundi HMC902167
Bach's own 'retrospective' of his work from a Hamburg charity concert in 1786.